I'm a long-time fan of Howard Taylor and Schlock Mercenary. He has a kickstarter going for challenge coins, I LUV "Not my circus, not my monkeys" as an idea. Feel free to Kick in. (I'm out of money or I would, but babies ya know?) In any case, I'm giving him some pre-credit as I steal the image below from his webpage – you can now buy this as a 5X7 print and avoid being labeled a thief (like me).

I love being a scientist. I love reading and writing science fiction. (Yes, I write, but not well enough to get it published -yet.) Still, there is this abiding pain we have to deal with. As an example, if you write crime stories about New York, it shouldn't be hard to visit NY, heck, it probably isn't too hard to get involved in a crime there. Wow, I shouldn't skip over CSI- Los Vegas, I bet you could end up dead on a streetcorner in an unsolvable murder mystery just about any day of the week…

But if you want to write about the planet circling Proxima Centauri (undiscovered as yet) you will be required to use your imagination. Not to get into the "planet discovery" craze, neither Alpha nor Proxima Centauri are likely to support any sort of life which would listen to a radio or watch color tv. But, our knowledge of space is limited to a single data point. We've dug a total of ONE (1) holes on another planet. That isn't a lot more than zero, exactly one more, in fact. When Mars is full of holes, it will still not really bring us to a second alien planet. Mars' "aliens" will be something like a microbe, or a dry algae, or … nothing as exciting as Edgar Rice Burroughs would have had us believe.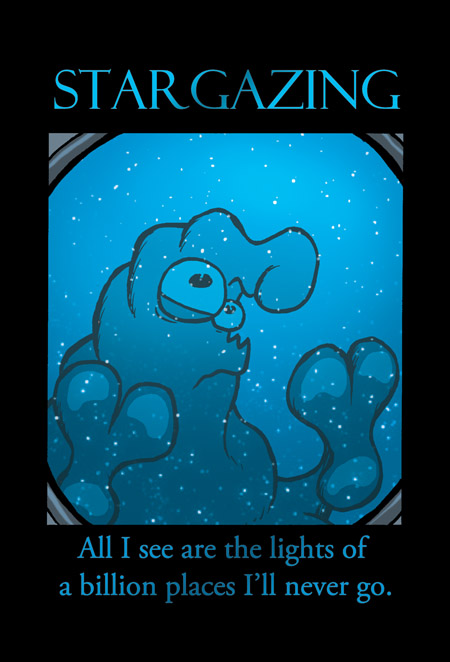 When it is all said and done – if the best & most aggressive programs on Earth are successful, we may someday actually listen to an alien radio broadcast. We may someday receive movies broadcast from a robot orbiting Alpha Centauri. We may someday … wish we could live just another hundred years, in the hopes that mankind would wake from its terrible slumber and reach for the stars.

What happened? You'd be surprised. We were raised to believe that governments funded exploration. It turns out that governments may throw a bone to explorers now and then, with prizes and enticements, but in general, governments consume money to stay in power. Exploration does not help them and the rich men who fund it and the rebels that undertake it are destabilizing to worldly powers. Rich men, merchants, and those noble sons who are limited in inheritance have done most of the world's explorations. We can only hope that they find reason to spend their wealth, risk their fortunes, and spend their lives in pursuit of new worlds. I just wish I could visit the stars with them.