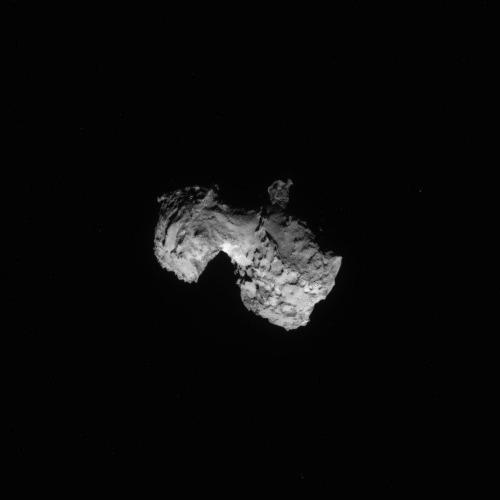 Oddly enough, I heard that Asteroids was one of the most popular video games ever. Well, This is a real asteroid. The Rosetta mission is creeping up on it. What can you say? It sure doesn't look like a planet.
Deeply WTF, ya know? I mean, you can predict "sphere" you can predict a lumpy potato… but this is … um kind of spiral lines like a pull fracture. Squarish craters… I'm baffled.
Remember last week when the sun was perfectly blank? I may have forgotten to post about it, but you all are keeping up with Solarham.com, right? Well, if you missed it, people were wondering if we were about to fall into some super minimum. nah
Now, the activity is mostly equitorial, which is appropriate behavior for the minimum, but there is more energy farther north and south than I'm comfortable with.
This false-color image looks at activity, not to add weird terms, but you can see how the wind is blowing.
Real activity seems to be mostly constrained under 30 degrees (and consistant with solar minimum) but there is a lot of activity all the way up to 60 degrees latitude.
"Thas jus not right." – Redneck man. (He shows up sometimes) 
So, ya know, we predict and we get smacked sometimes. We keep trying. Pieces of asteroids have been recovered on earth, but the differences between comets, asteroids, and their meteors needs a lot of empirical data. Thanks to the European Space agency for Rosetta, and thanks to NASA for STEREO – which gives us these Solarham.com images.